Kathy and Michael attend Montclair Prep High School together, 1972-1974
Head teacher, Simpson: "The young Jackson was a very good student, very curious and popular with the girls. He would even treat the school to some dance moves now and then."
House of Hilton, biography by Jerry Oppenheimer, published 2006
The wife of Bob Rozario, the legendary musical director for Bobby Darin, Tony Orlando, and Donny and Marie Osmon, Kay Rozario was a longtime friend of Kathy's mother, and was like a surrogate mother to Kathy's half sister, Kim. Rozario's daughter, Leanne, was Kim's closest friend; they had met at Cal Prep. At the time Kim and Leanne were there, one of their classmates was said to have been Michael Jackson's brother, Randy, and every so often his brother "The Gloved One" would come by the Rozario's home to take the girls roller skating.
**
In September 1974 – well before Rick Hilton came on to the scene – little Kathy focused her attentions on another young man who, for a number of reasons, caused consternation for her mother.
Jane Hallaren, who had been a confidante of big Kathy's since childhood, clearly heard the tension in her voice when she telephoned her in New York to discuss little Kathy's latest romantic travail. Jane and big Kathy's close bond had been formed when Hallaren, a street kid from Brooklyn, "beat the shit" out of big Kathy in the schoolyard of their Catholic parochial school after Hallaren had a Heathers type confrontation with a clique of girls whom Kathy controlled. A onetime model's rep instrumental in Martha Stewart's brief commercial and print modeling career, Hallaren had later gone into acting – stage and film – receiving critical claim as a predatory lesbian college professor in director John Sayle's 1994 art film Lianna.
Over time, big Kathy had kept Hallaren in the loop on the goings on in her life – "a book in itself," she states – and on little Kathy's teen romances, all of which Hallaren thought "quite banal and superficial." But the long distance phone call on the night in question is one she has never forgotten.
"Kathleen said, 'Janie, Kathy's having an affair. It's with one of the Jackson Five. I don't know what to do.'
"Kathleen said she was allowing the relationship to proceed, rationalizing that the relationship was a step up for Kathy because it was a connection to a well heeled show business family and celebrity. At the same time big Kathy didn't like black people, and here was Kathy involved with a black kid. It's the only conversation I ever remember having with her about any man in her children's, or her own, life, that she had trepidation about.
"I was sitting in bed listening to this, thinking, 'Oh-My-God.' I thought, 'This is is so absurd, so insane' that I said to her, 'I can't believe you're sanctioning this.'"
After that call Hallaren heard nothing more about the claimed romance until long after Kathy had become Mrs Rick Hilton.
"It was when people started asking, is Michael Jackson straight or gay? Then he was getting weird and I said to Kathy, 'He's straight, right, being he had that affair with Kathy,' and she said 'No, no, no, no – it wasn't Michael. It was one of his brothers.'"
Sometime After April, 1998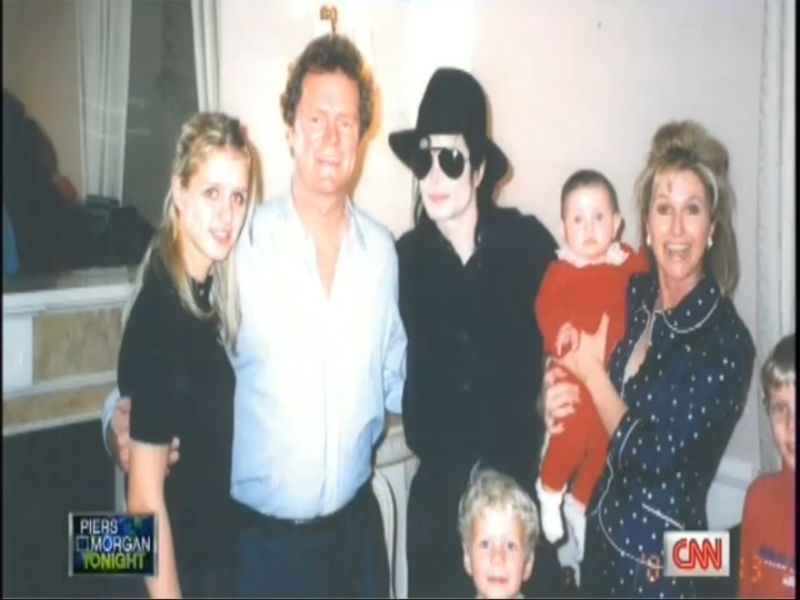 NYPost, Dec 21, 1998
SOMETIMES Michael Jackson can be so darned normal you have to wonder if all that Wack Jackson stuff isnt just a publicity stunt that has gotten way out of hand.
Take the play date on which the Gloved One took baby daughter Paris with the youngest children of hotel heir Rick and Kathy Hilton the other day.
The pop star was staying at his Trump Tower digs and doing some holiday shopping when he decided to drop in on the Hilton kids 9 year old Baron and Conrad, 4.
They were thrilled and have been telling all their parents friends about it ever since .
It seems Michael was lots of fun. The reputed germaphile wasn't wearing a surgical mask wasnt' heavily made up, wasn't even decked out in one of his toy soldier uniforms. He turned up in Gucci loafers, jeans and a sweater and was happy to let everyone present hold little Paris.
At one point Conrad sidled up to Michael and asked if he knew Janet Jackson. "She's my sister" Michael replied without taking an ounce of umbrage. "Do you dance?" was Conrad's next query. Michael gave a spirited demonstration and the kid was happy.
There was a nanny along for Paris, but [Michael Jackson] insisted on spoon- feeding her himself, in between joining in games with the kids. "He's a really cool dad," said Baron [Kathy Hilton] of Jackson, who has now winged back to his Neverland ranch to spend the holidays with Paris, his son, Prince, and their mom.
Michael, The Mirror, by Piers Morgan, Part 1. Wednesday 13th April 1999
Jackson is clearly devoted to his own kids. 'He tells me: "They are staying with a friend of mine who I went to school with. We go back a long way.
"My children are with hers having fun which is great. I call them all the time and we have great conversations. Hearing them say 'Dad! Dad!" is such a thrill."'
With Kathy, Heathrow Airport, March 2001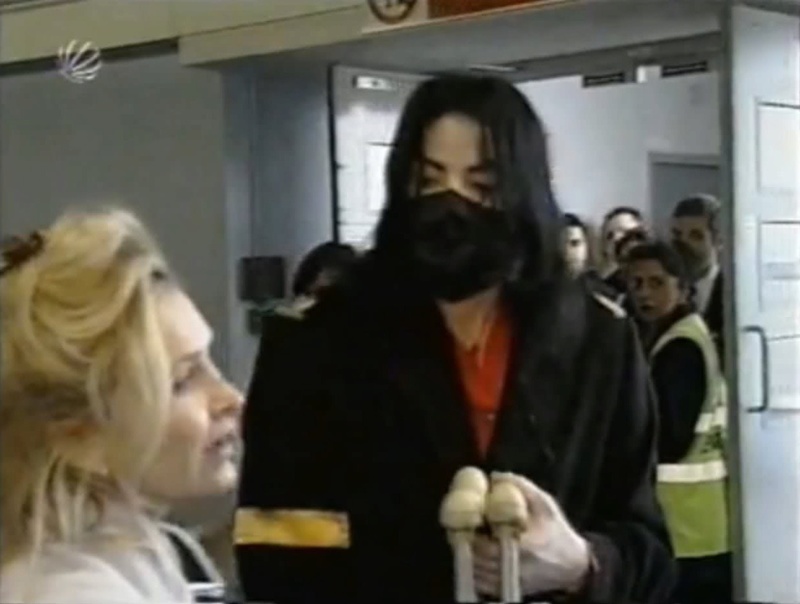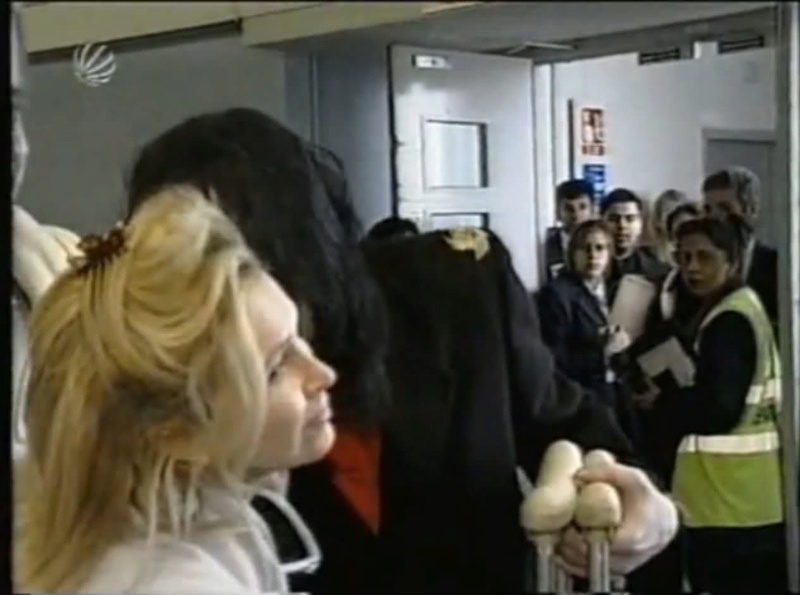 Bel Air Hotel, October 5 2008
Michael has moved back to California (staying at the Bel Air Hotel in L.A) and is looking for a new place to rent.
Bel Air Hotel, November 10/11 2008
Michael leaves notes to the fans from the Bel Air Hotel in Los Angeles saying that he's working hard on "music, film and performance".
June 25th 2009
After hearing the news, Kathy says goodbye to Michael at UCLA.
LaToya's second autobiography "Starting Over," released June 2011
I had never been so forceful with anyone in my life before this, but I didn't care, my brother was dead. I never did extract any information from him, as the scene was so chaotic. More family were coming in to visit, as well as my old childhood friend Kathy Hilton, and her sister Kyle Richards, who arrived at the hospital to comfort me and say their goodbyes to Michael. As I was walking back to see Michael with Kathy, she gave me some thoughtful advice.
"Honey," she said, "you should collect all the notes. Everything that you see that he's written down, collect it. Collect it. Collect it."
Her own mother had recently passed, and so she knew that Michael's papers would provide crucial information to whoever possessed them, and she wanted them to be in the right hands. Her advice proved to be even more valuable than she could have known.
LaToya Jackson, News of the World, 12th July 2009
Then, in true Hollywood fashion, Paris Hilton's mother Kathy turned up. She had gone to school with Michael and La Toya and spent time in the room with the family, saying goodbye. After the 30-minute farewell, La Toya signed the death certificate as the 'informant' who provided the information about her brother. 'My mother and brothers chose me because I had a special bond with Michael,' she said.
Hilton: Jackson Named Paris After Me, Extra, 23 July 2009
http://www.extratv.com/2009/07/28/paris-jacksons-name-inspired-by-hilton/
"Extra" caught up with Paris Hilton at the screening of her documentary "Paris, Not France" in Los Angeles, where the heiress opened up to "Extra" about her family's relationship with Michael Jackson — and revealed that Michael's only daughter was named after her!
"My mom and Michael went to high school together and they were best friends since they were 13," Paris explains. "So I grew up knowing Michael very well and when he had his daughter, he always loved the name Paris and grew up being an uncle to me. So he asked my mom if it was okay and of course she said yes and I think she's such a beautiful little girl and I'm proud we have the same name."
People, 27th July 2009
"The kids were so close to their father. They were with him all the time. It's devastating. The three of them have each other [now] – they will not be separated." – Kathy Hilton.
And often wore masks or sheer scarves over their heads when they went out. Insiders say the kids were not as sheltered as you might think. "That [was] only for protection and security when they were with him," says Jackson's friend Kathy Hilton, who would sometimes take them—uncovered—to the movies or out to eat.
People Magazine, 19th November 2009
Paris, 11, Prince 12, and Blanket, 7 are "wonderful, their grandmother is incredible and … they could not be in better hands," Hilton said Tuesday at the launch of daughter Paris's beauty line at the Thompson Hotel Rooftop in Beverly Hills.
"I believe they are being home-schooled, which I think is appropriate for this year," adds Hilton, 50, who has known the family since she was 13. "They're getting along and they have an incredible family. They really are, I promise you."
INSIDE STORY: How Michael Jackson's Kids Are Coping, February 14, 201
Seconds longtime family friend Kathy Hilton, "They're getting along and they have an incredible family."
Kathy and Paris Hilton, Piers Morgan, CNN, 1st June 2011
MORGAN: Kathy, when we come back, I want to talk to you about your very good friend, Michael Jackson.
(COMMERCIAL BREAK)
MORGAN: Back with the Hiltons. Kathy, this is fascinating. A lot of people claim to have known Michael Jackson. You actually went to high school with Michael Jackson. And you stayed close friends with him right until the end of his life.
And you've never really spoken about him much in public, not that I can see. Tell me about your relationship with him.
K. HILTON: We met when I was 13 and he was 14 and developed a friendship and a bond throughout the years. And we always kept in touch. And then when I moved to New York and he would come, and we'd always go to his concerts. And, you know, we started with — we used to make prank phone calls together. And we were little kids.
We had a really great time. And then he came and visited when Paris was born. And then he ended up living at the –
MORGAN: He was there when Paris was first brought into this world.
K. HILTON: She was just a few months old.
MORGAN: Really?
K. HILTON: He ended up moving into the Waldorf for six months when we were living there for eight years. And right before he died, he was at the Bel Air Hotel, where we were living while we were renovating our home. So he was there about three or four months.
So we got to spend, you know, great time.
MORGAN: We talk about misconceptions with Paris. What were the misconceptions about Michael, do you think?
K. HILTON: Well, there was not a kinder, more generous, loving, sweet, smart, smart — I can't — the most wonderful father. At the Bel Air, he did not have any nanny at all. And when I'd go to pick up the kids to take them somewhere, he'd be brushing their hair and buttoning up the sweater and just so warm and wonderful.
And I just — I love him. His whole family, they're a really wonderful, beautiful family.
MORGAN: Where were you when you heard he died?
K. HILTON: I had just come back to the hotel.
MORGAN: How did you hear the news?
P. HILTON: My assistant told me. And I literally fell on the floor. And my sister came and picked me up and we went directly to the house, because I thought the children would be there.
MORGAN: Did you go to the hospital when you –
K. HILTON: Yes.
MORGAN: What was the scene there?
K. HILTON: The children and Mrs. Jackson and all the brothers and sisters and just everybody was in this room. And just crying and hugging each other and just in a daze.
And this is a father that was so with his children. He's dedicated since they were born to raising and being with them. And then Latoya and Randy took me in to say good-bye.
I think if I hadn't, I would never quite in my head believe. Because even though he's a friend, he was such a powerful person.
MORGAN: Was he still alive when you –
K. HILTON: No.
MORGAN: Did you say anything?
K. HILTON: Yes.
MORGAN: What did you say?
K. HILTON: I rubbed his head and his arms and his legs and his feet and I just — I told him I love him so much and, you know, whispered some funny things to him, and that was it.
MORGAN: Incredibly sad end to his life, wasn't it?
K. HILTON: And he was so fabulous at the hotel. Up early every morning, playing with the kids. Really shocking.
MORGAN: Paris, did you know Michael well?
P. HILTON: Yeah, I grew up — just my mom — I remember — one of the first memories I have of him was when my mom took us to the music video set of "Thriller." And we have the pictures still. I just always loved him. I used to go to his concerts and he'd bring my sister and I on stage and we'd sing up there.
I just always loved him so much. He was such an amazing man.
MORGAN: He said to me, Kathy, I'd like to go see Paris. I said, well, she's out of town. Well, I'd like to see her recording studio. And I said, OK, all right. And I said just jump in the car. It was like 8:30 at night.
I said we don't have to get any security right now. Let's just go. Rick will drive. You jump in the back. And so the kids came and we all went up and we were up there at Paris'.
And he loves to look at everything. So he's looking at all the pictures on the walls. And he loves art. And in her closet and at all her collections of Pinocchio and Tinkerbell and all that.
And he said she reminds me — she — she's — what did he say? Something like, she reminds me sometimes a little of the way certain things that I like. And he loved the gold and the frames and –
P. HILTON: You took him in the studio.
K. HILTON: I took him in the studio and he got to see everything.
MORGAN: And he was an extraordinary talent, wasn't he? And he took your name, of course, for one of his children. How did that make you feel?
P. HILTON: I was honored.
MORGAN: Was it a direct result?
K. HILTON: You know, Latoya will tell you the story. When we were younger, we all would say that whoever has the first girl is going to name her Paris. And I had the first girl. So I got to do it first. And then when he had his daughter — MORGAN: Have you seen the children much since he died?
K. HILTON: I saw them a couple weeks ago. We went out and had dinner. And I can't believe how big they are. We went over there about three weeks ago.
MORGAN: And are they being well looked after?
K. HILTON: Oh, are you kidding? They're in a new house and Mrs. Jackson is there. They have an incredible, beautiful home, great security. And we had a big family dinner. They went up and did their homework and came down and showed grandma and had their bath and said good night, grandma, I love you. And it was great to see them.
MORGAN: There's a kind of feeling because I guess of the impending court actions involving the doctor and his death and everything else, that he'd become sort of a pathetic character in the end, addicted to all this medication and so on. Is that an inaccurate portrayal, do you think?
K. HILTON: Well, I can tell you that when he was at the Bel Air Hotel, there was none — there was none of that. Because I had — he was right underneath where I was. And we talked all the time. In fact, if we would be going somewhere in the daytime, he'd say 1:00 down at the fountain. And if I was five minutes late, he was very on top of it.
And he was with his kids. I believe in my heart that as he got into the concert thing, it was hard for him to sleep probably. He was not a drug addict. He had a problem going to sleep.
I mean, this is not somebody that recreationally would abuse something and I guess the levels went up and up and up.
MORGAN: What do you think his legacy will be, Michael Jackson?
K. HILTON: Well, I think that now that he's gone, everybody realizes what a good person, all the wonderful things that he's done for charity. And it's interesting that we don't hear — well, I won't get into any of that, but he's left three beautiful children.
MORGAN: Who will be his legacy, I think.
K. HILTON: Absolutely.
Jermaine Jackson, Twitter, 2 June 2011
jermjackson5 Jermaine Jackson
@KathyHilton @ParisHilton thank you for your beautiful tribute to Michael on @piersmorgan show. love to you all
Kathy Hilton, The View, 2011
Barbara: One of the things about you, is what a loyal and loving friend you are. And most people don't know, that you are, were, very close to Michael Jackson. You haven't talked about it, it's not something – you could've, and you haven't – and you were with him when he died, you went to the hospital. I just wondered, I know you've kept up with the family, how are the children?
Kathy: They're wonderful.
Barbara: And I think it's very lovely that you had done that.
Kathy: They are so happy and Mrs Jackson and the whole family, they are just incredible. These children are so well behaved, loving, giving, they are just a chip right off the old block.
Whoopi: Like Michael.
Kathy: As Berry Gordy said at the memorial, the greatest entertainer that ever lived. And just such a fun person and I feel bad that people don't know that funny side of him. And the pranking side, you know, we grew up together and we would play Ding Dong Ditch -
Joy: It goes to what Barbara was saying about Paris, the persona that you put out there, is what people pick up on.
Kathy Hilton, Celebbuzz.com 29th June 2011
Kathy Hilton, mother of Paris Hilton, recently gave an interview to Celebuzz.com about her famous daughter's new show, 'The World According to Paris.' But she was also asked about her friendship with Michael Jackson and when asked what some of her favorite moments with her friend were, Hilton answered:
My favorite moment with him would have to be when we were hunting for Easter eggs! One of the memorable times was him taking me to spend the day with Elizabeth Taylor. She's my idol and reminded me so much of my mother. As kids, we would make prank phone calls and do silly things. He taught Kyle how to do the moonwalk when she was 4 years old. He was completely misunderstood. When he was at the Waldorf [hotel in NYC where the Hiltons lived], there were fans waiting outside in the rain with photos and I told him about them. He had a big meeting to attend but he signed pictures for them and even sent out an umbrella. That's what he was like – so lovely. He raised beautiful, sweet children too. I will truly miss him.