Have dinner together at Sardi's on June 29 and she attends his concert, June 30, 1972
She did have her date with Michael at Sardi's the night before the Jackson 5 concert at Madison Square Garden on June 30,
1972
.
Michael Jackson, Los Angeles Times, 1972
"We went out to dinner in New York. The next night we had a concert there and she came and was in the front row and everyone recognized her from television and started grabbing at her [giggles] and wanted her autograph [more giggles]. They had to put her backstage."
Michael Jackson, August 20 1972
"I only did one show by myself." he smiles. "That was the Dating Game. It was fun. I won number one. She got to go to New York to see our concert."
October 1972 issue of 16 magazine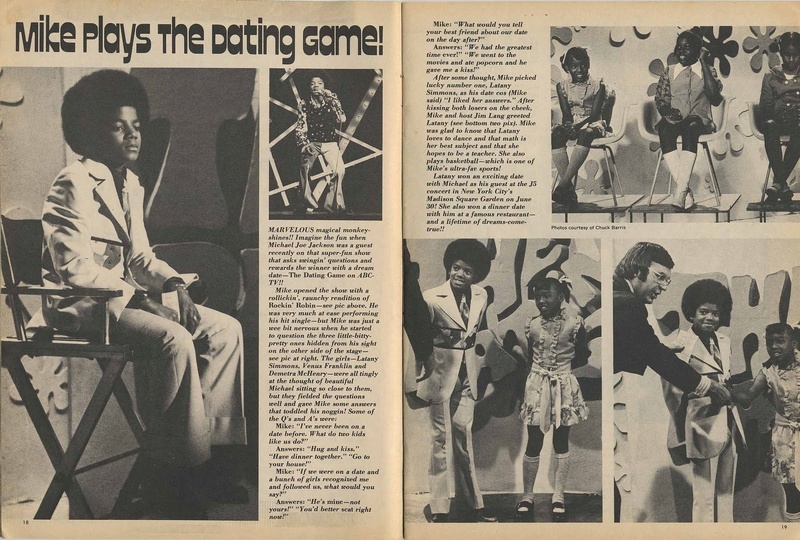 Andy Warhol Interview, 1977
Andy Warhol: Have you been dating in Hollywood?
MJ: No.
AW: But you're so cute.
MJ: I've never been on a date-outside of The Dating Game. And that was work.
Michael Jackson's Relationships and Loves
ORIGINAL AIRDATE: 7/1/2009
Latonya Simmons won a date with much sought-after Michael Jackson when she was 10 years old.
The year was
1972
: a 14-year-old Michael Jackson is about to make a young girl's dream come true.
10-year-old Latonya Simmons was competing against two other girls to win a date with the 14-year-old superstar on The Dating Game.
"When he picked me—oh God! If you looked at the other girls they were very upset," said Latonya. "I used to always pray, please, God, let me go out with Michael Jackson, and then all of a sudden it happened."
And when it did, Latonya took no chances. During The Dating Game, Jackson asked her, "Girls always follow me around, tell me what you'd say to them." Latonya answered: "Go away; he's mine, not yours!"
INSIDE EDITION spoke to Latonya, a one-time hospital administrator in Los Angeles back in 2003. Latonya recalled going out on four or five innocent dates with Michael, nothing more than a peck on the cheek.
"It was just kid stuff, we were kids," she said.
Michael's love life would become a real-life dating game played out for the world to see.
Michael revealed his first love was Tatum O'Neal in 1979. But in 2003, he told 20/20 he spurned Tatum's sexual advances because he was too shy.
Tatum called the allegations "crazy."
In 1984, Michael reportedly dated Brooke Shields. Rare footage shows Michael and Brooke arriving in a Rolls Royce to the 1984 Grammys.
Then there was the King of Pop's marriage to the daughter of the King of Rock and Roll – Lisa Marie Presley.
"And they said it wouldn't last," said Jackson at the 1994 MTV Video Music Awards. The marriage lasted less than two years.
But only one girl can claim the title of Michael's first love. "I guess I was his first date, yeah," said Latonya.