"Hello, Bob, this is Michael." The wispy voice caused me to review the Michaels I knew. I was stymied until the voice asked, "Did you write a book about Walt Disney?" I admitted I had authored "Walt Disney, An American Original." I also recognized the voice by now - Michael Jackson - remembering he had a passion for all things Disney. "I'd like to talk to you about Walt," he said urgently, and I agreed.
The date was set for the following evening at his family compound in the San Fernando Valley community of Encino, which is just a few blocks from my house. I arrived at the property and announced myself to a receptionist on the other end of an intercom. A massive gate opened slowly and I drove down a narrow passageway and stopped in front of a building containing offices. I looked around and thought I saw a tall tree nearby. I looked again; it was a real-life giraffe. An assistant said Jackson would be ready soon, and I spent 20 minutes inspecting a wall full of Jackson photographs with Frank Sinatra, Ronald Reagan, Elizabeth Taylor, Elvis Presley and other celebrities.
Finally, Michael was ready. I was introduced to him in an elaborate dining room and then followed him upstairs to the library, which featured a life-sized studio portrait of Walt Disney. "Do you mind if I record our talk?" he asked. "Not if you don't use it commercially," I replied.
He started by asking a few questions and I explained how I approached an interview with Walt. When he ran out of queries, I provided some memories of Walt. Toward the end of the conversation, Michael hesitantly asked whether Walt ever used a certain expletive. Without thinking, I replied I had never heard him utter it. The interview was over and Michael escorted me to the photographs I had already perused. He was busy in the mid-1980s and I didn't expect to see him again. Yet a few months later he called. "Hello Bob, this is Michael," he said. "Do you think Hazel George is still alive?" I said I didn't know but would find out. George was Disney's longtime nurse who also exchanged studio gossip with him. I found out that Hazel was retired yet still living near the Disney lot in Burbank.
"I'd love to talk to her," Jackson said. "Can you arrange it?" I did, and a few days later, Jackson picked me up at my house in his chauffeured limo and I directed the driver to Hazel's bungalow. Hazel had aged since I interviewed her for the biography and I found that I would have to prompt her. I had recorded the stories she once gave me and had brought the tapes along, so I played them back and let her deliver the punchlines. Jackson was fascinated but scarcely said a word. When we finished, Hazel said to Jackson, "Come back and see me, and don't bring him." She meant me.
A few months passed and then another call: "Hello Bob, this is Michael." He wanted to know more about Walt Disney and wanted me to join him at a San Fernando Valley recording studio. I arrived on time and waited an hour until he finished a session. We sat down in an office and he again asked questions about Walt, most of which he had asked in our first visit. He also asked again whether Walt had ever used a certain expletive. This time I remembered that he had on at least one occasion and I proceeded to explain the humorous circumstance. "Oh," he said. I never saw Michael after that.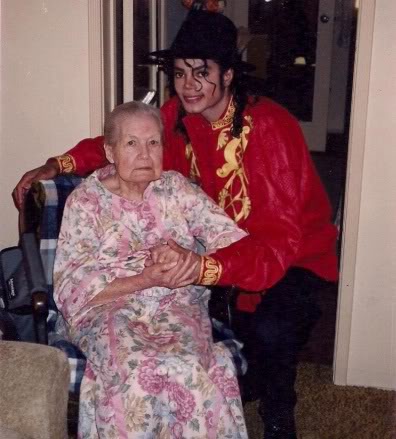 Copyright
The Seattle Times Company; By BOB THOMAS Associated Press Writer